Company Academy
Today's challenging business environment, coupled with rapidly changing customer demands, are causing corporate learning departments to rethink their value, role, and impact in the organization. The increasing level of business uncertainty, forces managers to question the investment in learning while trying to understand the value of learning and deciding the appropriate level of investment.
Having limited resources and tight budgets, Learning and Development must achieve, not only the corporate objectives and needs  but also the professional growth and performance of all employees on an individual basis.
This highly complex goal  cannot easily be achieved with the reactive, tactical and procedural training approach. Times call for a more strategic and holistic view of learning and development. The view of the Company's Academy.
What is a Company Academy?
A 'Corporate or Company Academy' is a company-focused Learning and Development unit (hub), which goes beyond training and focuses, holistically and proactively, on employee performance and development, while expanding organizational capabilities and serving the company's specific strategic business needs.
That is why, in Company Academies, senior management is actively involved in the learning process and perceives the commitment to learning as a competitive advantage and not just as a cost centre.
Company Academies have shown rapid growth the last 20 years. A survey by the Boston Consulting Group (BCG) found that Company Academies doubled between 1997 and 2007, to around 2,000. Since then, it reckons, they have continued to spread, and now more than 10,000 companies around the world have them.
Why a Company Academy?
A Company Academy:
Is  designed and customized on company's specific strategic needs and transfers the company's vision and strategic objectives to the employees
Is the vehicle for creating and safeguarding the  desired organizational culture and mindset
Acts proactively, by designing in advance the development framework of the company and the individual Learning and Development Paths for all employees, in a long-term perspective
Engages and motivates people by building and supporting their Learning and Development Plans, thus increasing employee loyalty
Develops more company-specific learning programs and materials (case studies, lessons learned stories etc.)
Captures and disseminates formal and informal Corporate Knowledge Reduces training costs, as employees' learning and development is driven by internal forces
Takes advantage of technology-enhanced learning
Implements more effective learning and development approaches than traditional seminars, like Work Assignments and Projects, Coaching etc.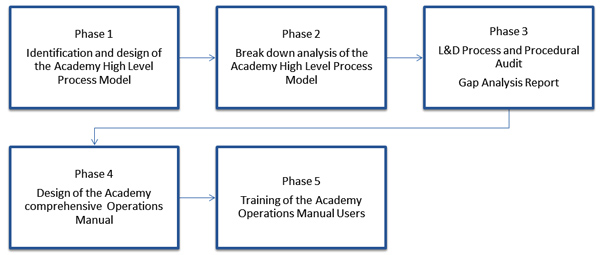 Our Expertise
Our team of experts can assist you in:
Identifying your own Company Academy model, that serves your strategic business needs and satisfies the needs of all your major stakeholders
Performing  a Learning and Development Process Audit and Identify Gaps
Designing, developing and implementing your Company Academy
Facilitating the transition from a training and development function to a Company Academy
Conducting executive briefings about the design and development of CAs
Training your internal Trainers and Instructional Designers
Designing your internal communication and marketing plan
Sharing with you  best practice and benchmarking information
Choosing the right systems and software for e-learning and for record-keeping and course delivery