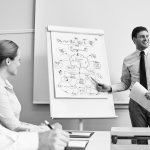 Goal Setting Process and KPIs Workshop
Duration: 2 days
Setting direction and leading in a VUCA world, that is Volatile, Uncertain, Complex, and Ambiguous, presents a challenging environment in which leaders must align employees with the critical and important business priorities, towards the company's Vision and Strategy.
In this two-day hands-on workshop, participants will have the opportunity to learn how to breakdown the company' strategic goals to departmental, team and individual level, identify and set the corresponding Performance Indicators (PIs, KPIs) and monitor performance in a goal driven environment.
Who It's for
This program is designed for managers, supervisors and team leaders, who are called to manage and monitor the performance of their department and/or team through specific goals and KPIs.
Learning Objectives
By the end of the workshop, the participants will be able to:
Realize the impact of leading through numbers
Master the Goal Setting Process using Job Aids and Templates
Set S.M.A.R.T. goals and define Performance Indicators (PIs & KPIs) to facilitate execution and monitoring
Learn how to Review, Monitor and Optimize goals and KPIs
Achieve cross-departmental alignment, collaboration and calibration of goals
Learn how to develop Action Plans
Get your team involved in the process and achieve ownership and commitment
 Our Methodology
The training method is a hands-on interactive workshop. The philosophy is to 'Learn by doing', using Experiential and Active Learning Techniques. Participants will learn the techniques and work on practical examples, with Job Aids and Templates. Finally, they will apply the new knowledge and skills in practice as a process, working on examples of their own company's strategy, goals, KPIs and action plans.
Job Aids:
Job Aid 1: Understanding Types of Goals
Job Aid 2: Preventive or Reactive Goals
Job Aid 3: Goals Breakdown and PIs Template (Excel Sheet)
Job Aid 4: Goals Validation Checklist
Job Aid 5: Performance Indicators Validation Checklist
Day 1
 Setting Direction and Leading in a VUCA World (volatility, uncertainty, complexity, and ambiguity)
The power of "Why?" and how to achieve the strategy alignment
Achieving Strategy alignment: Defining and Communicating Vision, Mission, Values and Strategy to inspire action and achieve engagement
Achieving Horizontal Strategic Alignment: Cross-departmental Collaboration & Contribution

Facilitating Strategy Execution based on interdepartmental Collaboration
Systems Thinking and Connectedness

Communicating the Vision, Strategy, Goals and KPIs and inspire action
 Goal Setting Process and Tools
Using the goal-setting process to align with your Strategy (Vision, Mission, Values, Strategic Goals)
Goal Setting Process (Workshop + Job Aids)

Alignment: Linking Strategy to Departmental Objectives / KPIs
Alignment: Cross-departmental / Team alignment
Setting S.M.A.R.T. Objectives
Developing the Performance Indicators (PIs & KPIs)
Day 2
Developing Action Plans
Breaking down goals to actions
Resource Leveling
Checking Dependencies
Reviewing, Monitoring and Optimizing Goals and KPIs
Learn how to review and improve goals and KPIs
Developing a "rhythm" of monitoring and empowering execution
Calibrating and Optimizing goals cross-departmentally
 Achieving team's ownership and commitment
Involving your team
Inspiring and communicating Vision and Strategy
Creating a goal driven culture