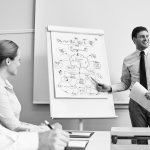 People Development Skills: Develop your People to Reach their Full Potential
Duration: 2 days
People are the true asset in every company. People Development is a joint initiative of managers and employees to upgrade the existing knowledge, skills and behavior of the individual and improve empowerment, loyalty and performance.
In this two-day highly interactive and Neuroscience-based workshop, managers, supervisors and team leaders will learn how to create a Growth Mindset Culture, where every employee is motivated to acquire new skills. Also, they will learn how to offer constructive feedback and recognition and develop actively their people, and themselves, with On the Job Training, Coaching Conversations and Mentoring Relationships.
Who It's For
All managers, supervisors and team leaders who are responsible to lead and develop a team.
Learning Objectives
By the end of the workshop, the participants will be able to:
Embrace the role and responsibilities of the 'People' Leader
Be visionary Leaders who communicate Vision, Mission, Values and Strategy to inspire action and achieve vertical and horizontal alignment
Apply a more personalized approach to Motivate, Empower and Inspire each one of their team members
Facilitate the change process and minimize workplace stress
Apply Effective Communication and Emotional Intelligence for "People Managers"
Offer Positive and Constructive Feedback and Recognition
Design and Deliver On-the-Job Training (OJT)
Engage people in Coaching Conversations
Be a Mentor for their people
Our Methodology
The training method is a hands-on interactive workshop. The philosophy is to 'Learn by doing', using Experiential and Active Learning Techniques. Participants will develop their own competencies, using multiple self-assessment tools to identify their strong points and weaknesses. Finally, they will apply the new knowledge and skills in practice with many practical examples, case studies and role plays.
Day 1
Introduction to People Development
Neuroscience and Brain Based People Development
The role and responsibilities of the 'People' Leader
Development-based Leadership Model
The 70-20-10 model for Learning and Development
Building a Growth Mindset Culture

What is Growth and Fixed Mindset in Organizations (Carol Dweck, Stanford University)?
How can we create a more positive mindset to ourselves and our teams?
Motivating, Empowering and Inspiring People
Communicating the Vision, Strategy, Goals and inspire action
Empowering others to feel confident and positive
Motivation satisfier and dissatisfier factors
Inspiring with the Aristotle's Persuasion Model: Ethos, Pathos, Logos
Dealing with change & Stress
The Nature & Impact of Change
Making Change Happen
Facilitating Change – Expectations and Practical Actions
The 'Flow' theory to manage anxiety
Effective Communication and Emotional Intelligence for "People Managers"
Understanding two-way communication dynamics
Active Communication Skills
Active Vs Diagnostic Listening
Asking the Right Questions
Personalised Communication Approach based on Personality Styles Grid (Self-Assessment & Practice)
Emotional Intelligence for managers
Day 2
The Art and Science of Asking, Accepting and Offering Positive & Constructive Feedback
Self-Awareness Through Johari Window
Emotional Awareness
The value of Self Awareness at all levels of hierarchy: Asking for & Receiving Feedback
Offering Recognition and Motivating Others
Making the Difficult Discussions: How to offer Constructive Feedback in failures or challenges
On the Job Training (OJT) principles & Techniques for managers
On the Job Training 4 step process
Designing an OJT Activity based on a real–life example
Tools and Techniques
The Power of one-on-one Coaching Conversations
The role and skills of a Manager as a Coach
Egan's 3 stage Skilled Helper Coaching Model in practice
Building Trust and Setting Boundaries
Tools and Techniques
The Mentoring process and the power of motivation and loyalty
The role and skills of a Mentor
Building Trust and Setting Boundaries
Directive Vs Facilitative Mentoring
Tools and Techniques