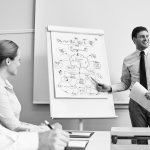 Performance Management for Success: Align.Monitor.Support
Duration: 2 days
Performance Management should no longer be a meaningless, formal evaluation process that results in people becoming demotivated or discouraged from working towards desired goals. Performance Management is all about leading, inspiring and guiding through ongoing People Development and growth.
Managers at all levels need to learn how to align their people to the company's vision and strategy, clarify expectations, set clear directions and S.M.A.R.T goals, as well as to provide ongoing support and feedback to facilitate success.
In this two-day hands-on workshop, participants will have the opportunity to learn how to manage effectively and improve their team's performance, get them aligned with the company's vision and strategy, set the right goals and support their people through this journey of success.
Who It's For
All managers and supervisors who are responsible to lead and manage a team in an effective manner in order to reach their full performance potential.
Learning Objectives
By the end of the workshop, the participants will be able to:
Align Performance Management with the Company's Strategic Goals and Objectives
Be visionary Leaders by inspiring their team though a shared vision
Realize and comprehend the role and responsibilities when managing performance
Set S.M.A.R.T goals and a monitoring mechanism through Performance Indicators (PIs & KPIs) to facilitate execution and monitoring
Understand Competency Frameworks and behavioral indicators
Understand the importance and role of the company's core values
Build a Growth Mindset Culture
Manage Feedback Meetings effectively
Deliver successful On-the-Job training and apply basic coaching skills for results
Our Methodology
The training method is a hands-on interactive workshop. The philosophy is to 'Learn by doing', using Experiential and Active Learning Techniques. Participants will learn the techniques and work on practical examples, with Job Aids and Templates. Finally, they will apply the new knowledge and skills in practice as a process, working on examples of their own company's strategy, goals, KPIs and action plans.
Job Aids:
Job Aid 1: Understanding Types of Goals
Job Aid 2: Preventive or Reactive Goals
Job Aid 3: Goals Breakdown and PIs Template (Excel Sheet)
Job Aid 4: Goals Validation Checklist
Job Aid 5: Performance Indicators Validation Checklist
Job Aid 6: Holistic Feedback Process
Day 1
Introduction to Performance Management principles
The evolution of Performance Management and Market Insights
The Performance Management Process and its transformation
The role and responsibilities of a manager who also act as performance manager
Achieving Strategy alignment: Defining and Communicating Vision, Mission, Values and Strategy to inspire action and achieve engagement
Communicating the Vision, Strategy, Goals and KPIs and inspire action
Goal Setting Process and Tools
Using the goal setting process to align with Company's Strategy (Vision, Mission, Values, Strategic Goals)
Goal Setting Process (Workshop + Job Aids)

Alignment: Linking Strategy to Departmental Objectives / KPIs
Alignment: Interdepartmental / team alignment
Setting S.M.A.R.T. Objectives
Developing the Performance Indicators Matrix (PIs & KPIs)
Developing Action Plans
Breaking down goals to actions (company, departmental and individual level)
Resource Leveling
Checking Dependencies
Using Competencies and Core Values Effectively
The importance of Competencies to the Goals Achievement
What are Competencies and competency frameworks?
Competency Framework, Foundational and Differentiating Competencies
How to identify competencies
How to measure competencies
How to link competencies with training and development
The importance and role of the company's core values
Day 2
Monitoring performance using Goals/ KPIs and Competencies
 The Role of the Performance indicators
 The corrective actions
Using Performance Management Meetings and  Feedback Check-ins to improve performance
The Art and Science of Asking, Accepting and Offering Positive & Constructive Feedback
Self-Awareness Through Johari Window
Emotional Awareness
The value of Self Awareness at all levels of hierarchy: Asking for & Receiving Feedback
Offering Recognition and Motivating Others
Making the Difficult Discussions: How to offer Constructive Feedback in failures or challenges
Improving Performance through on-going development and coaching initiatives
On the Job Training (OJT) principles & Techniques for managers

On the Job Training 4 step process
Tools and Techniques

The Power of one-on-one Coaching Conversations

The role and skills of a Manager as a Coach
Egan's 3 stage Skilled Helper Coaching Model in practice