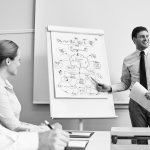 Train the in-house Trainers & Post Graduate Diplome in Training & Development (TQUK)
Duration: 2 days
For the certification: Portfolio of Assignments, Exams and Microteaching (2-3 Mentoring hours provided)
Introduction
When business is growing, there is always a need for Continuous Learning and Development activities, either for induction purposes of new hires or for further development of existing members. In-house trainers, who usually are the subject experts and know the company and its procedures extensively, are the best to deliver company-specific trainings, provided that they are professionally trained as trainers.
This highly interactive and neuroscience-based two days 'Train the in-house Trainer' workshop will prepare and coach internal corporate in-house trainers, so that they can design, develop and deliver in-house courses to the highest possible standards, leading to actual business results.
Who It's For
Professionals who have the responsibility to deliver in-house trainings under their Functional role, Corporate Trainers, Training Specialists, HR professionals, Training Managers.
Learning Objectives
By the end of the workshop, the participants will be able to:
Understand the International Standards in Training, based on Best Practices and examples
Apply Neuroscience and Brain Based Learning tools and techniques to improve retention, understanding, skills and achieve long term change in the behavior of their trainees
Understand and embrace the role of the successful corporate trainer
Design and implement Training Needs Analysis
Design interactive training courses based on real-life educational scenarios
Develop practical and useful Training Material
Use available Training Media and Material effectively
Manage training groups and difficult trainees effectively
Apply advanced Presentation and Training Delivery skills in action

Effective Body Language Techniques in training delivery
Verbal and Non-Verbal Communication Techniques

Apply a suitable Evaluation Strategy and follow a 'Lessons Learned' approach
Our Methodology
"The mind is not a vessel that needs filling, but wood that needs igniting
Plutarch"
The Training Method is Workshop. Our philosophy is to 'Learn by doing', using Experiential Learning Techniques. Each participant works on an individual, real-life educational scenario and applies all the steps of the A.D.D.I.E. methodology in practice. Finally, a micro-teaching video-recorded practice and coaching is applied to enhance performance.
Day 1
Introduction to Corporate in-house Training
The role of the successful in-house trainer
Linking training to the corporate strategy and performance management
Neuroscience & Brain-Based Learning and Development
Efficient Learning (KPI: Time to Perform)
Improving Retention and Understanding
The process of Developing new Skills (the automated process)
Changing habits and long-term Behavior
 Training Needs Analysis (TNA) – Understanding the learners' needs
Understanding and applying the Training Needs Analysis Process
Understanding Learners' Needs and Feedback
Basic Training Design
Linking Training Needs to Training Design
Understanding training objectives (Knowledge, Skills and Behavior Objectives)
How to design/update a lesson plan based on a real-life personal educational scenario
Understanding and choosing the right Training Techniques to meet learners' needs (presentation, demonstration, practice, case studies, role playing, brainstorming, storytelling etc.)
Day 2
Developing the right Training Material
PowerPoint Pitfalls and common mistakes to avoid
Video based training, how to use videos in training
Advanced Communication, Presentation and Training Delivery skills in action
Advanced Communication Skills and Active Listening
Interactive trainer's Presentation and Body Language skills in action
Managing difficult trainees
Using Training Media (Flip Chart, Whiteboard, Data Display etc.) and Training Materials effectively
Micro-teaching and Personal Coaching Activity
Applying an Evaluation Process and follow a 'Lessons Learned'
Kirkpatrick's 4 levels of evaluation
Lessons Learned and how to improve
Training Program's Evaluation Tools and Techniques