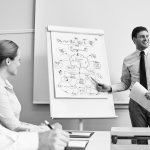 Train the eLearning & Blended Learning Trainer Workshop
Duration: 2 days
Introduction
eLearning by itself or in combination with face-to-face classroom training (i.e. Blended Learning) increases the ROI of training, is very flexible and contributes to more engaged and satisfied employees, especially the new generations of professionals (such as millennials).
The question raised is how classroom in-house trainers can acquire the skills to design and deliver eLearning and/or blended learning trainings and be more autonomous in the use of e-learning platforms and webinars and in the creation of efficient learning material.
This highly interactive and Neuroscience-based two days 'Train the eLearning & Blended Learning Trainer' workshop will prepare and coach internal trainers, so that they can design, develop and deliver in-house eLearning & Blended Learning courses to the highest possible standards, leading to actual business results.
Who It's For
Professionals who have the responsibility to deliver in-house trainings under their Functional role, Corporate Trainers, Training Specialists, HR professionals, Training Managers and in general professionals involved in the eLearning and Blended Learning.
Learning Objectives
By the end of the workshop, the participants will be able to: 
Understand asynchronous / synchronous e-Learning and Blended Learning
Apply Neuroscience and Brain Based Learning tools and techniques to improve retention, understanding, skills and achieve long term change in the behavior of their trainees
Design and implement essential Training Needs Analyses in Blended Learning / e-Learning training programs
Design and develop eLearning/Bended Learning lesson plans using the most suitable training methods and techniques for Asynchronous and Synchronous delivery, such as Flipped Classroom, microlearning etc.
Design and develop eLearning Material (Assets and SCORM)

Narrated Video Presentations and Demonstrations
Animated videos
Quizzes that enable real-time feedback
Gamification elements

Use the appropriate Software and hardware for Asynchronous and Synchronous delivery (Webinars & Web conferences)
Communicate effectively and manage Face-to-Face, Asynchronous and Synchronous delivery
Apply a suitable Evaluation Strategy and follow a 'Lessons Learned' Methodology
 Our Methodology
The Training Method is Workshop. Our philosophy is to 'Learn by doing', using Experiential Learning Techniques. Each participant works on an individual, real-life educational scenario using computers and e-learning platforms (LMS and Web conference) for hands-on practical assignments and demos.
Day 1
Applying basic educational concepts for adult training in Blended Learning training programs
Neuroscience, Neurodidactics, Growth Mindset (Carol Dweck) & Brain Based Learning in e-Learning/Blended Learning
eLearning and Blended Learning Definitions
Best Practices in Corporate e-learning
Demo e-learning Sessions and Training Material
ISD (Instructional Systems Development & ADDIE (Analysis, Design, Development, Implementation, Evaluation)
Designing and implementing the Training Needs Assessment process in Blended Learning programs
Training Needs Analysis in e-learning/Blended Learning
Tools and Techniques
Learning Objectives

Link to the Training Needs
Knowledge, Skills & Behavior
Performance Criteria
Instructional Design
Selecting the best training strategy: Face to Face, e-learning / Blended Learning
Technology Enhanced Learning tools and techniques (Flipped Classroom, Demonstration, microlearning etc.)
Designing a lesson plan based on a real-life scenario
Day 2
Using in practice the LMS (Learning Management System)
LMS as a trainee
LMS as a trainer

Designing and using Recourses
Designing and using Activities
Using in practice the appropriate Software for Synchronous delivery (web conference / webinars)
As an attendant
As a Moderator
 Designing and Developing e-learning Material
Understand the standards for e-learning training material (SCORM Learning Objects)
Design and develop eLearning Material using Storyboards

Narrated Video Presentations and Demonstrations
Animated videos
Quizzes that enable real-time feedback
Gamification elements
Micro-teaching and Personal Coaching Activity
Designing and implementing the Evaluation process (Kirkpatrick's 4 levels)