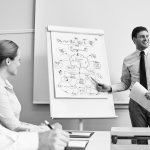 Project Management for Business Professionals
Duration: 2 days
 As the business world grows more competitive, organizations find it necessary to take on an increasing number of "projects" even if they are not called as 'Projects' officially. As such, today's modern employee, regardless of seniority or department, has literally slipped into the role of the Project Manager even though non-Project Manager by job title.
Whether the task to be undertaken involves the overview of a construction or engi­neering project, building a website, recruiting for the organization or as simple as running a short opinion survey; it will require time, management of resources and clear analysis of the Cost & Benefit effect.
This two-day course will give your employees the basics on the pro­ject management process and it will teach them how to lead through the stages of initiat­ing, planning, executing, monitoring and completing a project.
Who It's For
Managers, Supervisors or team leaders who act as project managers or project leaders, as well as members of project support teams.
Learning Objectives
By the end of the workshop, the participants will be able to:
Start a project successfully (Project Initiation)
Analyze and design a project (Project Planning) at a basic level (Scope-Time-Cost)
Prepare the necessary documents and forms relating to a project
Design the processes Quality (Quality Assurance & Control)
Monitor the progress of a project (Monitor and Control)
Assess and manage potential and unforeseen risks (Risk Management)
Manage the Procurement process of a project
Close the Project formally and learn from the experience
Our Methodology
To ensure that participants obtain maximum support and guidance, the workshop has many practical application exercises and both individual and team work on real life scenarios. Lecturing is minimized to the minimum and the trainer acts as a facilitator, enabling participants to learn and acquire practical skills though hands-on experiential and problem-based training techniques.  Participants work in groups on real life scenarios, applying in practice all the theory and tools, preparing a project through all processes at a basic level.
Day 1
 Introduction to Project management for Business Professionals
Understanding Projects: Project Management terminology & Life Cycle
Alignment of projects goals with company's Strategy
Initiating the Project
Initiating the project: The Project Charter
Stakeholders Analysis and Strategy
Analyze and design a project (Project Planning) at a basic level (Scope-Time-Cost)
Identifying Project Activities with Decomposition
Work Breakdown Structure
Managing Time & Cost: priorities, scheduling, network diagrams, budget
Managing Risks
Identifying Risks
Basic Risk analysis and Response Strategies
Day 2
Monitoring Projects and Managing Quality
Basics of Performance Indicators and KPIs
Quality assurance, quality control: Completing project milestones successfully and ensuring that project deliverables conform to quality standards
Leadership in Projects
Neuroscience Leadership
Management Style: Balancing Tasks and People
Situational Leadership Model

Effective Communication and Emotional Intelligence for Project Managers
RACI Diagram & Communication Plan
Understanding two-way communication dynamics
Agile Communication Styles based on People Personality Styles (Self-Assessment & Practice)
Emotional Intelligence for managers
Closing a Project & Lessons Learned