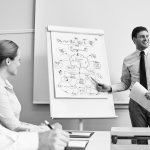 Risk Management for Business Professionals Workshop
Duration: 2 days
In today's VUCA business environment, that is Volatile, Uncertain, Complex, and Ambiguous, "Risk Management", if not performed correctly and in a timely manner, could easily become "Crisis Management", which may, in turn, lead to "Management of Losses".  And this may cost a lot in terms of money, time, reputation or moral.
In this two-day hands-on workshop, participants will have the opportunity to learn how to apply Stakeholders Management, how to write a Risk Management Plan, how to Identify Risks and then analyze them, how to plan Responses and implement them and how to monitor risks, in alignment with other company's departments and stakeholders of their company.
 Who It's for
Business professionals, managers and supervisors at all levels who are responsible to identify and manage potential risks in projects.
 Learning Objectives
By the end of the course, participants will be able to:
Successfully apply the principles of Enterprise Risk Management in their company's everyday life
Identify and analyse the Stakeholders
Compose a Risk Management Plan
Identify and describe both opportunities and threats using a variety of proper tools and techniques according to a Risk Management Plan.
Analyse identified opportunities and threats though proper tools and techniques of Qualitative and Quantitative Risk Analysis.
Identify and describe effective response strategies for the identified risks and also contingency plans.
Conduct risk control through risk reassessment, risk audit and reserve analysis
Our Methodology
The training method is a hands-on interactive workshop. The philosophy is to 'Learn by doing', using Experiential and Active Learning Techniques. Participants will learn the techniques and work on practical examples, with Case Study Analysis, Group Discussion, Workshop and Templates.
Job Aids:
Case Study Analysis: particular cases associated with examples of ERM application in companies will be analyzed and discussed through the contribution of the theoretical concepts. This method will help participants to develop a particular awareness and understanding of project risk management concepts and practices.
Group Discussion: the development of discussions will help participants to demonstrate knowledge, understanding and critical thinking of aspects associated with ERM rhetoric.
Workshop: Each participant will have to apply all the theory in practice on a real case scenario, through role plays and risk templates
Day 1
Stakeholders Management
Identifying and analyzing Stakeholders
Managing Stakeholders expectations and attitudes
Monitoring Stakeholders engagement
Plan Risk Management
Defining Risk and types of risks
Forming a Risk team
Composing a Risk Management Plan
Choosing the proper Risk templates (RBS, PI Matrix, Risk register)
Identify Risks
Running Identify Risks meetings (tools & techniques)
Identifying Threats & Opportunities arising from Scope, Cost, Schedule, Quality Communication, HR & subcontractors.
Forming a Risk Register
Day 2
Risk Analysis
Performing Qualitative Risk Analysis and using a PI Matrix
Types of biases in Risk Analysis & creating an Urgent list and a Watchlist for Risks
Performing Quantitative Risk Analysis and the use of Monte Carlo technique
The Expected Monetary Value method & how to calculate a Contingency reserve
Planning & Implementing Risk Responses
Selecting and Planning Risk responses
Secondary & Residual Risks
How to Implement Risk Responses
Monitoring Risks
Applying Risk reassessments, Risk Audits & Reserve Analysis
Using Workarounds