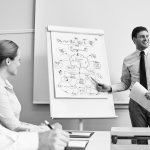 "Train the eLearning & Blended Learning Trainer" Online Workshop & Post Graduate Diploma in e-Learning and Blended Learning
Duration 24 hours (in Synchronous e-Learning / Web Conference Workshop)
For the certification: Portfolio of Assignments, Exams and Microteaching (2-3 Mentoring hours provided)
Introduction
E-Learning, even in the form of Emergency Remote Training in the times of the Social Distancing, either as a Synchronous web conference/webinar or as an Asynchronous learning course with Interactive e-Learning Material through an LMS, has proven its value and potential for those who are prepared and sets the ground for new and engaging Learning Experiences.
Learning from home or at a distance, provided the experience is of high quality and it offers a good ROI, can be a real game-changer for many companies of every scale internationally, today and in the near future.
So, all L&D professionals, HR and Training Managers and Executives now need to make decisions for, plan, develop and deliver engaging distance learning experiences to their teams. They need to understand the "why" and the "how" of the various e-learning and blended learning strategies, methods and techniques. Then, they would need to navigate efficiently through the countless options of the "whats", i.e. the many offerings of e-learning platforms tools and content in the market, while considering a DIY approach, with rapid e-learning and micro-learning.
This highly interactive hands-on and neuroscience-based online workshop combines synchronous and asynchronous e-learning and prepares all interested stakeholders to be able to understand, design, develop and deliver interactively tailor-made e-learning/blended learning programmes and to create engaging learning experiences to suit the needs of the people in their organisation, today and in the near future.
Who It's For
Professional Trainers in the public or private sector
Human Resources or Learning & Development Department Professionals
Corporate Academy Stakeholders
Secondary and Tertiary Educators and Administrators
Face to Face Instructional Designers
Managers or other Subject Experts who need to deliver webinars or online course
and in general, all stakeholders interested in e-learning and Blended Learning
Prerequisites: Average (and above) experience in Face to Face teaching and training. Average Digital Literacy skills. No programming skills required.
Certification (Optional)
By the end of the program all participants shall receive a certificate of attendance from Human Asset. Additionally, participants who are interested may prepare for and apply for the Postgraduate Diploma in e-Learning and Blended Learning, Level 7, from the British Awarding Body TQUK (Endorsed Program). The expected duration of the preparation is approximately 1-2 months. Mentoring will be provided by the trainers. The Certification Modules are 6:
Module 1: Applying Cognitive Science Concepts in e-Learning and Blended Learning
Module 2: Designing and Implementing the Learning & Development Needs Analysis
Module 3: Implementing the e-Learning and Blended Learning Instructional Design Process
Module 4: Developing e-Learning and Blended Learning Material & Resources
Module 5: Teaching / Training in e-Learning and Blended Learning Programmes
Module 6: Designing and Implementing the Evaluation Process
Duration
24 hours, split into 6 X 4-hour synchronous sessions, usually twice a week with asynchronous assignments of 4-6 hour asynchronous practice. In the last 4-hour session participants will be delivering their microteaching presentations.
Learning Outcomes
By the end of the workshop the participants will be able to:
Understand the "why", the "how" and the "what" of e-Learning and Blended Learning
Understand and apply the A.D.D.I.E as a basic model in e-learning projects
Apply Neuroscience and Brain-Based Learning tools and techniques to improve retention, understanding, skills and achieve long term change in the behaviour of their learners
Embrace the concept of a 'Growth Mindset' and create a learning culture in the organization
Design and implement easy and practical Training Needs Analysis processes in e-Learning and Blended Learning programs
Design engaging e-Learning and Blended Learning experiences, using Lesson Plans and Storyboards, for Asynchronous and Synchronous delivery
Use a typical Synchronous tool (for Webinars & Web conferences) and an Asynchronous Platform effectively
Communicate effectively and manage the e-classroom Synchronous and Asynchronous delivery
Apply a suitable Evaluation Strategy and follow a 'Lessons Learned' Methodology
Our Methodology
"The mind is not a vessel to be filled, but wood to be ignited" [Plutarch]
The training takes the form of a hands-on and neuroscience based online workshop, combining synchronous and asynchronous e-learning. Our philosophy is 'Learning by Doing', using Experiential and Collaborative Learning Techniques. Each participant works on an individual, real-life educational scenario and applies all the steps of the A.D.D.I.E. methodology in practice (Asynchronous and Synchronous e-learning). A carefully structured sequence of activities & assignments culminates in a micro-teaching recorded practice session.
 Introduction
 Neuroscience & application of the latest Cognitive Science trends in e-learning
Make it Stick: Improving Retention and Understanding in e-learning
Make it fun, make it engaging
Changing habits and long-term Behavior
Dawn of the New Era: Strategies, Methodology, Tools and Techniques
The Case of the Corporate Academy: Linking L&D to the corporate strategy
Using A.D.D.I.E as a basic model of instructional design
 Training Needs Analysis (TNA) – Understanding the learners' needs
Understanding and applying the Training Needs Analysis Process in e-learning
Instructional Design: F2F, Synchronous and Asynchronous e-Learning
Creating a Blended Learning plan
Writing a 3-methods Lesson Plan
Creating Storyboards
Synchronous e-Learning
How to hold engaging web conferencing meetings and deliver powerful webinars
Public Speaking skills in front of the web cam
Designing the synchronous experience
Tools for Synchronous e-Learning (Zoom for Practice)
Asynchronous e-Learning Platforms (LMS)
Using an LMS as a teacher, trainer and facilitator

Designing and using Recourses
Designing and using Activities
Using a forum for asynchronous communication

Tools and Platforms for Asynchronous e-Learning (Moodle for Practice)
Creating basic and interactive e-learning Material
Understand the standards for e-learning material (SCORM Learning Objects)
Design and Develop Sample e-learning material using Rapid e-Learning Techniques (PowerPoint as an e-learning Authoring tool & Camtasia TechSmith)
Other Authoring Tools Presentation (Articulate Storyline, Rise)
Micro-teaching and Personal Feedback from the Trainers
 Applying an Evaluation Process and following a 'Lessons Learned'
Kirkpatrick's 4 levels of evaluation
'How have we done?' Evaluation Tools and Techniques
Lessons Learned and how to improve